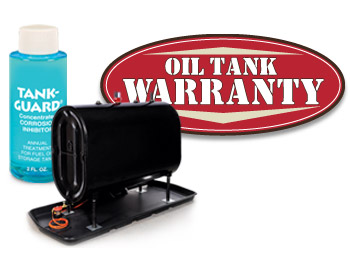 The TANK-GUARD® Program is a corrosion protection and warranty service for aboveground fuel oil tanks up to 330 gallons capacity.  It is offered through a select network of Oilheat Dealers in North America.  The TANK-GUARD® Program is provided by Lincoln Laboratory, a company which has served the Oilheat Industry for over 50 years.
The useful life of an oil storage tank is impossible to predict, but the most common cause of oil tank failure is from internal corrosion which is caused by water condensation that collects on the tank bottom.
Depending on where you live, oil tank replacement can cost from $1,000 to over $2,000.
Obviously, your tank is a vital part of your heating system and is worth protecting. That is why we are offering this comprehensive TANK-GUARD tank protection program to our customers with aboveground tanks. Now, a leaking tank could be replaced for FREE.
The TANK-GUARD Program Protects Your Oil Tank In Two Important Ways
First, your tank will be treated once a year with the TANK-GUARD liquid corrosion inhibitor during a regular oil delivery.
If you have an oil tank leak that is covered by the TANK-GUARD Warranty, your tank will be replaced at no charge including parts, labor, and the certified removal and disposal of the old tank including the oil sludge.
Liquid TANK-GUARD® is formulated specifically for use in fuel oil tanks. It is a concentrate that is heavier than fuel oil. It goes to the bottom of the tank and reacts only with moisture and acids – not with the oil. It neutralizes acidity and protects the inside of the tank bottom against further rusting and corrosive pitting. Annual treatment with TANK-GUARD® can result in longer tank life and reduced service problems.
TANK-GUARD® is safe and is easily installed through the fill pipe once a year during a regular oil delivery or service. If TANK-GUARD® should be carried through the oil line to the burner, it will simply be burned with no harmful consequences.
Remember that the oil is floating on top of the water and sludge. Additives that mix with oil can't have any effect on the tank bottom. Only a chemical that mixes with water can attack the real problem. It's the best preventive medicine for oil tanks.
Regular observation and/or inspection of your aboveground heating oil tank is a "must" for your assurance of a safe oil tank system. Keep in mind that the tank system includes the fill and vent piping and the oil supply line that feeds oil to the burner.
The National Oilheat Research Alliance (NORA) provides consumer information about oil storage tanks at the website www.oilheatamerica.com. NORA recommends that routine tank inspections be conducted as part of preventive maintenance tune-ups. NORA maintenance guidelines point out that routine inspections afford the opportunity to find and correct problems with tanks and tank system components before they cause financial or environmental problems.